Cross processing Colour Film
If you want an effect from your film that's a bit different you can ask for it to be cross-processed - but do make your written instructions very clear! ( We don't list it in the Basket to avoid mistakes in ordering ). We can cross process any 35mm or 120 film and you can have it scanned or printed in the Basket of the Checkout. You can get an idea of the effects that can be produced from the examples below, or you can watch our You Tube video here.
Standard slide film and E6 process
Imperial gardens in Cheltenham provides a suitably colourful scene for some colour experiments. This was transparency film, Fujichrome 400asa, developed normally through E6 chemistry. The strong colour saturation and detail of this type of film made it very suitable for slide projection or subsequent reproduction in magazines etc.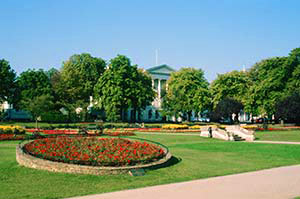 ---
Slide film cross processed through C41 chemistry
Slide films such as Ektachrome or Fujichrome can be cross-processed through C41 chemicals. The resulting prints or scans generally have very saturated, contrasty colours: skin tones look particularly strange and if the processing time is extended through 'push-processing' then the effect can be further exaggerated.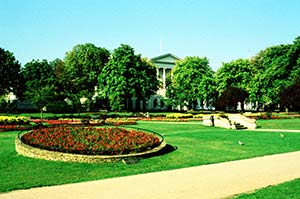 ---
Normally processed Colour Negative film
Colour negative film, developed normally. This is the most common film type used and allows for very life-like colours to be printed onto photographic paper. Provided the initial C41 process is correct the colour is adjusted at the printing or scanning stage.
---
Colour Negative processed through E6 chemistry
Colour negative film developed through E6 chemistry. The colours are flat and the orange hue is a feature of most colour negative films. The orange colour 'mask' is permanent and was designed to help the printing process when paper is exposed optically, through-the-lens.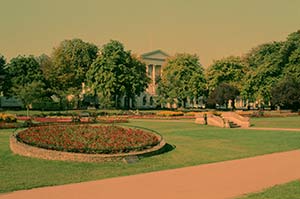 Colour Negative film requires a process called C41, which was invented by Kodak. These films that are distinctive by having an in-built orange cast to the film base ( the colour bias helps in the subsequent printing stage in making colour photographs). Other manufacturers produced their own versions of the film and chemistry: Fuji has CN16; Agfa had AP70; Konica had CNK-4 but they were all compatible with the original C41.
C41 has become a shorthand term that describes the film, the chemistry and even the photographs ( sometimes called C-type prints) .
Transparency film also has its shorthand terms, so transparency film = slide film = E6 film and is manufactured by Kodak as Ektachrome; by Fuji as Fujichrome and Agfa had Agfachrome. Kodak invented the process and the other manufacturers adopted the same standard, but produced their own brand of chemistry. Fuji has CR-56; Agfa had AP44 but even today Fuji quotes both process names on the packaging.